Dear user,
We are excited to announce our new coin listing on OTC platform. Upgrade to our latest version to enjoy the celebration!
Reward #1: From now until July 7, the discount transaction fee is only 0.35% (50% discount!).
Reward #2: From now until July 7, the transaction will receive a maximum of $ 619 in trading bonuses, as follows: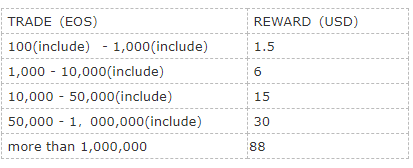 Details:
1. Promotion period: now till July 7st, 2019 23:59 (HKT)
2. For promotion #2, reward will be credited in EOS based on market price. Reward shall be distributed from 1- 7 business days in your "Reward History" ("Wallet" - "Transaction History" - "Reward History").
3. Code of conduct will have to be strictly followed by participating users; misbehavior will lead to disqualification.
4. Transaction fees for previous users who signed up as EOS advertisers will be calculated based on the lowest discounted rate.
5. CoinCola reserves all rights for final interpretation.
Go To The EOS Trading Page To Buy Your First EOS Coin On CoinCola!